As companies reshore production, it's critical to build a successful quality assurance process. Experts are calling it a "manufacturing renaissance."
The Department of Labor has been reporting increases in US manufacturing jobs, as companies begin reshoring production to reinvigorate supply chains that have been atrophied by overseas shipping delays. This means companies should also expect an uptick in orders from not only their existing customer base but new clients as well, who are now seeking US-based suppliers for what they used to source overseas.
Here at Identiti, we've been able to foster trust and loyalty with our quality assurance processes. Below are the key components to what's proven to be a successful QA system for our manufacturing processes.
Client Collaboration
Client satisfaction should be the foundation of every step of production. The best materials and latest technology mean nothing if they don't align with what the client wants. At Identiti our guiding principle is that the client's brand standards are the primary critical requirement.
Our 13-step quality process begins with close client collaboration to determine brand standards and critical attributes, so the team has a rock-solid framework for production. The more information gathered in the beginning, the better support our team has in executing our client's plan. And as production proceeds, we continue to collect client input at multiple steps along the way.
"Our strength is the adaptability to our customers' ever-changing needs and being able to collaborate with them to make sure they are successful."
Vince Williamson, Identiti COO
Production Checkpoints
To prepare for more business, it's essential to reassess each step in the production process. This includes any step in which the product is evaluated—both in-house and on the client side. This finetunes the overall process and pinpoints where errors occur for more precise troubleshooting.
At Identiti, each product, at each checkpoint, is inspected, evaluated, and documented. And does not move on until each requirement is met.
Certain checkpoints require client approval of product photographs and samples. Our teams start over from scratch if necessary; still, implementing multiple checkpoints reduces these "do-overs." And it gives the team and our customers the utmost confidence in the final product.
Materials and Supplies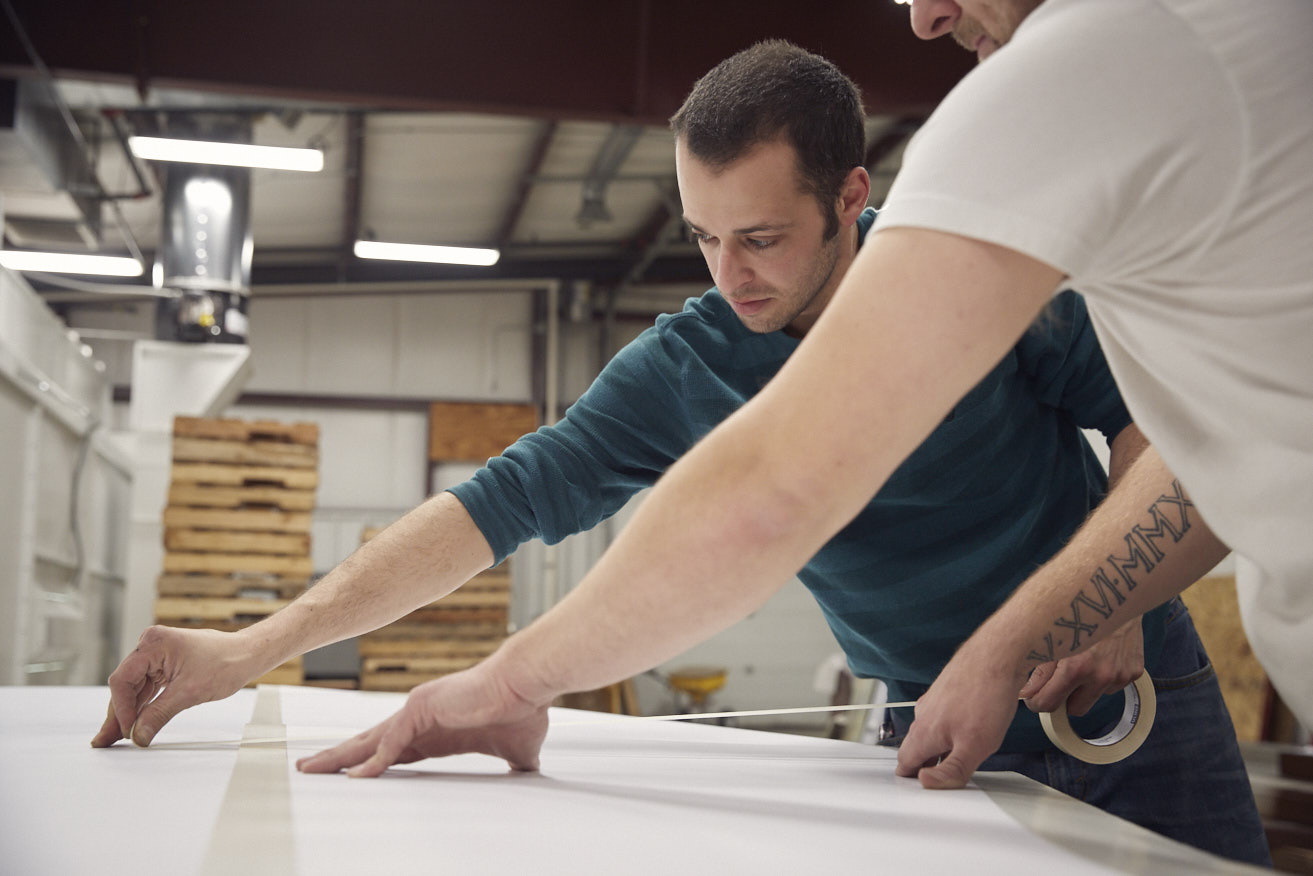 The return of supply sources to the US creates a prime opportunity for teams to reevaluate vendor lists and the materials available. It's the perfect time to explore what materials to procure closer to home and to reassess vendors they've previously overlooked.
At Identiti, we also consider a vendor's core values—we only partner with qualified suppliers and distributors who uphold values similar to our own. We also closely inspect raw materials to ensure they meet our standards.
Materials sourced from trusted vendors:

Aluminum
Vinyl
LED
Acrylic
Lexan
Styrene
Design Manufacturing Requirements and Specifications
Companies must assess how they maintain quality. Even as demand grows, each product must continue to meet requirements and specifications. Manufacturing teams should examine the processes by which quality assurance aligns with the original project plan.
Identiti's 13-point process includes crucial manufacturing checkpoints, such as:
Specifications Review
Physical Lighting Test
Comparison to Control
Structural Review
Overall Final Inspections
"We use our QC system per station to double-check each sign as it goes through from start to finish. Light the LEDs, double-check the power supplies, do the final touches on the paint."

Auna Foote, Identiti Supply Chain Manager
Auna is especially enthusiastic about the recent tech upgrades that streamline their work. One such upgrade puts a tablet at each manufacturing station so team members can take quality control photos, review control samples, and have easy access to their checklists and specifications while allowing direct communication with program managers. At each step in the process, upgrades like these ensure that the signage our team makes is consistent while keeping our internal team updated along the way. It's key to establish a process that can easily scale as business grows.
One Last Check
The final checkpoint—just before the sign is packed up to ship—is crucial to the process. Teams must evaluate not only how thorough the process was, but how that process can be scaled. Our pre-delivery inspection requires teams to review not just the appearance and branding of each product, but the functionality and build. This final checkpoint is crucial to collecting data and measuring performance; allowing for constant refinement and improvement of our production line.
Based on client-provided analysis and QBR, we hold a 98-99 percent success rate—a statistic that we are determined to maintain through continuous improvement processes.
As production returns to the U.S., it's important that manufacturing teams are ready with a robust quality assurance program that can scale to meet demand. Evaluating critical areas of client collaboration and review, material quality, adherence to requirements, and pre-delivery inspection prepare companies not just to meet their clients' needs, but also attract new customers. As production scales, our manufacturing team is confident that prioritizing quality assurance helps Identiti foster trust and loyalty with clients.